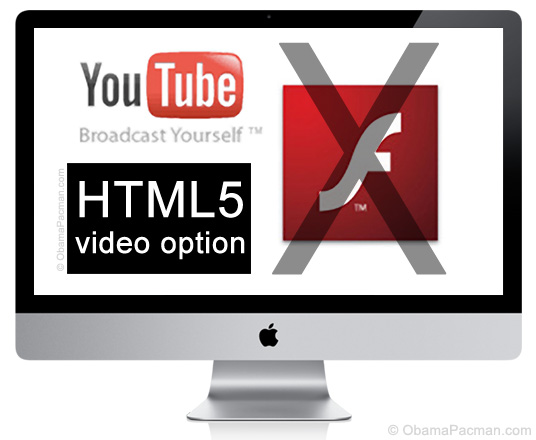 Short Summary:
What is HTML5?
Test Youtube HTML5 Beta
Youtube Video - 720p HD
Same Youtube Video but in a normal player that you can view while HTML5 is turned on
Note that the Yotube HTML5 is still in Beta so of course it doesn't work perfectly and doesn't work on all videos. If you want a flawless version, wait for its Final and Official release.
--------------------
Normal Summary:
I would like to announce that HTML5 that has been developed for so long over these past years is finally starting to get used in the todays Internet.
Don't know what HTML is? Don't worry, HTML is what everyone of you saw each day. Every page uses HTML, without HTML there wouldn't be an Internet page. HTML was developed so much that it can use many plugins, programs and third party things next to it like Javascript, Adobe Flash, Divx and such. I believe most of you already seen em all.
HTML5 is what combines all that knowledge to use with HTML and making it much more flexible making things 100x stable and literally faster, i heard it even made less lagg (no lag at all) for games, browser ones of course.
HTML is of course browser only so it will make Internet lots of times faster if you ask me but don't worry everything is updating just like HTML so even the games will experience lots of less lagg soon for sure, by soon i mean in a few years at least. xD
Well why don't i just show you? You will be far more convinced than when i type it.
First Let me show you what HTML5 is, at least a part of it
Here
.
Now for the main point of HTML5 i want to show you a practical use for it, a Youtube Beta project made using HTML5. Yes, that means Youtube will use HTML5 very soon as its standard.
Test the Youtube Beta Here
. All the requirements are written on that site and you probably only can use it if you are a Youtube Member so why don't you
become a Yotuube Member here
too so you can test it out. Currently, only a few browsers support HTML5 Firefox is part of em but it doesn't support it fully yet so it won't work on Firefox yet, download Google Chrome to make it work for sure
Here
.
Saw it? Now that is woah, you seem to be able to adjust the download speed too, i set it to max and guess what. A whole
720p HD Youtube Video
was loaded in literally about 0.10 seconds, If you don't call that fast then you are crazy lol.
Oh, and most of you will love this. HTML5 won't need to use Flash on Youtube, you know what that means~ *wink wink*
Well, i hope you would look forward to it as i do and hope you like this thread of course~!!
So what are you waiting for!? Post your experience and your opinion on HTML5 here now!! ^^